Get your bullstalk wallpaper NOW!
Wallpaper Info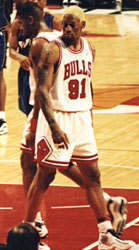 October 28, 2003
The Watcher
Reviews "The Worm"
On the eve of yet another NBA season, last night marked the world premier of yet another "Sports Century" saga. Last night's episode featuring Dennis Rodman was exactly that...a saga within a saga.

Personally, I've never been much of a supporter of the Worm...but of course that was until he wore the red and black of the Bulls. You see being a huge fan of Pip, changing gears to cheer on one of Scottie's all-time nemesis was quite the challenge. Not only for myself, but for Michael and Scottie and the rest of the Bulls during the 96, 97 and 98 seasons.

But after watching this story unfold within the half hour long program, it accured to me just about everyone else aquainted with Rodman found life with the Worm to be a challenge...especially Dennis himself.


From life without his father, to being upstaged by his two sisters in games of basketball, to simply wanting to end it all, the recap of Rodman's life up to this point was at times saddening, touching and disturbing. In the end I found myself wanting to feel sorry for the Worm, more than I wanted to ignore all of his stupid antics he brought to the court from time to time.

In the end you see someone who seemingly wants to leave this world the way he came in it...with nothing.

He moved from family to family, both in real life and while in the NBA, and left one failed relationship to start yet another relationship that ended quicker than the previous one had started.

The show does focus slightly on his career achievements which truly are remarkable.

Dennis led the NBA in rebounding for 7 straight seasons and was a main piece in 5 NBA titles...2 with the Detroit Pistons and 3 here with the Chicago Bulls. Once the Bulls were broken up, he played 23 games with the Los Angeles Lakers in 1999, then in only 12 games for the Mavericks in 2000. After that, Sports Century clearly points out that the Worm just couldn't keep up with his partying ways and try to play competatively on the court the following night.

His career for all practical purposes was over.

For someone who has experienced so many problems in life, I can put aside the Pippen incident and the head-butting outburts etc. and be glad that he had 3 fantastic years here in Chicago. I collected his cards, his magazine covers and even a "couple" doorsized posters or two, and in the end, he was a Bull for 3 magical seasons that I'll
never forget.

-The Pippen Watcher


---
home
E-Mail the Pippen Watcher
MUST READ
ABOUT PIP!!!