Get your bullstalk wallpaper NOW!
Wallpaper Info




It seems nowadys we can't get enough of LISTS!

Top 10 this & Top 10 that...covering everything from fashion to celebrities, and from politics to now even news items of the day.

So, I thought yours truly, The Pippen Watcher, could conjur up some "original" Top 10 Lists for everyone's enjoyment.

Check in every now and then for up-to-date lists as they will be fast and furious...and don't worry if you miss out on one, because all of them will be archived for your future enjoyment. Better yet, if you would like to contribute your favorite, please do so!

Simply e-mail me, The Pippen Watcher, your favorite
"Top 10 List" and we'll post it here on bullstalk.com.

The Pippen Watcher's Official
Top 10 Scottie Pippen Moments

---
10. Pip scores career high 47 points vs. Denver at the United Center...2/18/97.

9. Near game-ending dunk in Game 3 of the First Round 1997 NBA Playoffs vs. the Washington Bullets. "The Dunk" came with 7.4 seconds left after a Bullets lead of 95-94 with 20.2 seconds left.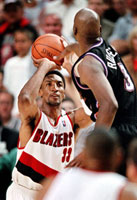 8. Pip hits clutch 3 pointer with seconds left vs. Utah to give Portland a lead that would not be relinquished. (2000 NBA Western Conference Semi-Finals)
READ MORE

7. Named one of the 50 Greatest Players in NBA history.

6. Scottie's vicious dunk over Terry Dehere and the Los Angeles Clippers.

5. Pip leads undermaned Bulls squad to overtime win vs. the Knicks on Christmas Day 1995 at the United Center. He scores "ALL" 7 overtime points for the Bulls and I believe blocked John Starks shot at the end of the game.

4.Pip leads bench players in the start of one of the NBA's greatest comeback victories, over the Portland Trailblazers in Game 6 of the 1992 NBA Finals.

3. Voted MVP of the 1994 All-Star Game.
2. Scottie's memorable dunk over Patrick Ewing in Game 6 of the Eastern Conference Semi Finals.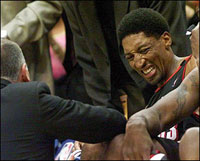 1. With his team down 3-1 to the Los Angeles Lakers in the 2000 NBA Western Conference Finals, Scottie raises his game(s) to another level, carrying the Blazers to a Game 7 in that series. Some of the most determined basketball by a single player that I've ever seen.
READ MORE
-The Pippen Watcher
---
MORE TOP 10 LISTS
The Pippen Watcher's Top 10 Bulls "Busters"
&nbsp&nbsp not posted yet
The Pippen Watcher's Top 10 Bulls "Bench Players"
&nbsp&nbsp not posted yet
E-Mail the Pippen Watcher
BREAKING NEWS