Get your bullstalk wallpaper NOW!
Wallpaper Info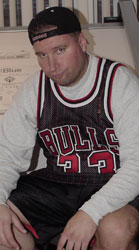 October 30, 2003
Paper Bag Please!
<!!--------TYPE STORY HERE------------> Last night may have been, for all intensive purposes, one of the most humiliating and embarassing games the Bulls have played since the Tim Floyd Era.

On a night that started so promising with the welcoming back of Scottie Pippen and a video montage that should have moved most Bulls fans, it ended up being the Bulls play on the court that made us cry.

And you thought past games on ring night were bad? This topped all of those games and then some! From the offensive side of the ball to the defensive side of things, the Bulls play on this night was absolutely horrific!

I know everyone is going to get on Eddy Curry right away, but I will be the first to defend him. I felt the Wizard's big men of Brendan Haywood, Etan Thomas and Christian Laettner were getting away with murder by either flopping at the very sight of Curry or simply hacking the heck out of him all night. As a result, Eddy found himself in early foul trouble, unable to establish any offensive flow to his game. When he did attempt shots though, he was mauled to death and with no call in sight.

Secondly, the first team of Pippen, Rose, Crawford, Baxter and Curry did not have much playing time together during the pre-season and boy did it show.

Though Lonny Baxter gave a descent effort on the boards, he is in no way the defensive intimidator that Tyson Chandler is. Jalen Rose cleary was rusty as he seemingly missed shot after shot including a non contested lay-up early in the fourth quarter. Jamal Crawford was erratic, while Pip who ended up 3-7 shooting for 7 points, just couldn't defend everyone and risk injuring himself in the first game of the season.

It was painful, to say the least, to see Scottie walk off the court during a time out and hear the onslaught of boos directed at the entire team. There was absolutely nothing he could do. For every run the Bulls may have had, the Wizards matched it and then built on their lead until the defecit reached 82-62 midway through the fourth quarter. I had to turn it off.

When I joined the brodcast again, coach Bill Cartwright was addressing the media, being very careful of his choice of words. This was just not supposed to have happened this way.

But the good news is, it's over and best to have had this happen now, rather then later...when the Bulls will be playing for a playoff berth...

...or so we hope.

-The Pippen Watcher


---
home
E-Mail the Pippen Watcher
MUST READ
ABOUT PIP!!!
Bulls waive Trenton Hassell